COVID-19 Safety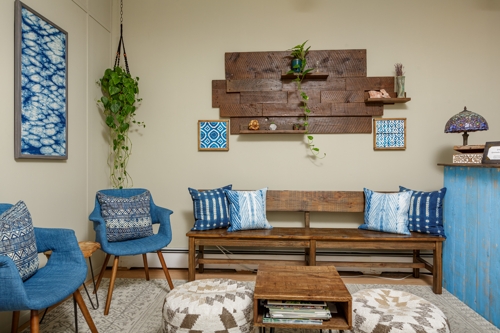 While the comfort, healing, and relaxation of our clients have always been our top priority at Red Moon Wellness, your safety, as well as that of our staff and the greater community, will always come first. We have worked hard to not only implement the most comprehensive evidence-based set of changes and policies to minimize risks during the pandemic, but we have also meticulously thought through how to maintain the best client experience possible during our "new normal". We understand some things will feel different in your overall experience, but the heart of what we do - highly skilled therapeutic massage in a beautiful environment - will remain unchanged.
In order to minimize risk of COVID-19 transmission, we are in full compliance with (and in many cases taking greater precautions beyond) NY State reopening requirements for Phase 3 Industries, NYC regulations, and CDC and OSHA guidance for disinfection. Accordingly, we have implemented a variety of policies that pertain to both clients and staff as well as extensive disinfecting procedures. Read on for a summary of changes, details on client policies, as well as information on our client & staff health screenings.
UPDATE March 2022: As a health care facility that specializes in working with high risk populations, we continue to maintain strict mask policies for all clients and staff.

UPDATE December 2021: We continue to take the strongest Isolation + Quarantine protocols with our staff and clients, despite CDC loosening these guidelines. Details below.

Vaccination Policy

Red Moon Wellness believes in the importance of COVID-19 vaccines for the safety of our community. We are in full compliance with the NYC "Vax to Work" mandate which requires all employees of NYC private businesses to receive their first dose by December 27, 2021. Since the mandate allows for legitimate accommodations for medical or religious reasons, and because you may want to request someone who is fully vaccinated + boosted, you have the right to request a therapist who has voluntarily signed a disclosure allowing us to share their vaccination status. Just call our front desk to request a verified vaccinated therapist when booking. Beyond our compliance with the vaccine mandate, we continue to take the strongest precautions against COVID including universal mask-wearing for all staff and clients as well as the addition safety measures described below.

Red Moon is taking the highest level precautions:
Ventilation & Air Quality: We have gone above and beyond state mandated changes with a special focus on ventilation and air quality including medical grade HEPA filters and fresh air ventilation in every room including our reception area. Based on the square footage of each room air purifiers will operate at an air change rate of 12-15 times per hour (far exceeding the recommended air change rates of at least 6-8 times per hour). The true HEPA filters trap 99.97% of particles at .3 microns and 95% of particles at .1 microns. We also installed vent fans into each room to exhaust air out during appointments and circulate air in between appointments. Every room including our bathroom has windows that can remain open to ventilate as needed. We have also invested in a CO2 meter to monitor whether sufficient fresh air levels are being maintained with these ventilation protocols. Based on testing CO2 levels in the treatment rooms just before and immediately following appointments we have found CO2 levels to consistently remain below 550 PPM, which demonstrates adequeate ventilation levels are being maintained even during the 60-90 minute treatment times. (For reference, experts believe that anything under 800 PPM is considered a well-ventilated indoor space and anything under 600 PPM is considered a very well-ventilated indoor space. Over 1000 is considered an alarm range for poorly ventilated indoor air and 400 is typical of outdoor air, not typically acheiveable indoors).
Universal Mask Wearing: All staff and clients (regardless of vaccination status) will be required to wear appropriate masks or face coverings at all times inside Red Moon. There will be no expceptions to this policy.
COVID-19 Health Screenings & Temp Checks: All of our staff will be subject to daily health screenings including temperature checks before coming into work. Clients will also be subject to health screenings and temperature checks with our touchless infrared forehead thermometer. Our full set of screening questions can be found below.
Reduced Capcity & Physical Distancing: We will be leaving 30 minutes between each appointment and have stagggered the schedule so that clients will not overlap in our reception area. The treatment room you will receive your massage in will have been ventilated for a minimum of 30 minutes before your appointment.
PPE: during your massage treatment all therapists will be wearing a face mask and a fresh zip-up scrub jacket over their clothes. Masks and scrub tops will be new for every appointment and face shields will be disinfected between each appointment. LMTs are also required to change out of their street clothes upon arrival and into a pair of clean work clothes, including dedicated indoor-only shoes.
Thorough Disinfecting: The treatment room will be thoroughly disinfected using a non-toxic EPA registered disinfection solution between each appointment. In addition to the treatment rooms, the reception area and bathrooms will be disinfected multiple times per day. We are using a safe and effective commercial disinfectant called Bioesque that is on EPA list N for use in killing SARS-CoV-2 in just 4 minutes. The active ingredient is thymol, which is derived from the herb thyme. It is incredibly safe and registered with EPA for this use.
Touchless upgrades: we have installed touchless faucets in the bathroom and staff hand washing station, touchless soap dispensers, and touchless hand sanitizers through the facility. We have also gone completely paperless with an electronic health records software for clinical note taking by staff and online intake forms for clients.
Staff Training & Education: our clinical and front desk staff have all been trained in proper disinfecting procedures based on CDC guidelines. In addition, we have required our therapists to go through continuing education in the clinical understanding of complications that can arise for clients who may have recovered from COVID-19 and any and all precautions and contraindications as they relate to safety in receiving massage therapy (including special cautions for prenatal clients who may have recovered from COVID-19).
Paid sick leave for staff to discourage anyone from coming to work while ill (and because its the ethical thing to do!). This includes paid time off for staff to receive and recover from vaccinations.
Strict Quarantine & Isolation Policies: Despite the CDC reducing quarantine and isolation requirements, at Red Moon Wellness we continue to take the highest level precuations around isolations and quaratines when a staff member or client is exposed to or tests positive for COVID-19. If a member of our staff is exposed to COVID-19 we require them to quarantine for a minimum of 10 days and to receive at least two negative PCR test taken around days 5-7 in order to return to work. If a member of our staff tests positive for COVID-19 we require them to isolate for a full 10 days before they can return to work, despite the CDC's new guidelines allowing a return after only 5 days.
Download our full NY State Phase 3 Industries Re-opening Safety Plan (September 2020)
Medical Massage is an Essential Health Care Service in NY State and new data indicates that massage seems to be a low risk activity when performed with proper precuations.
Details
on our blog.
When booking an appointment all clients are required to read and agree to the following policies:
No Walk-ins: To ensure adequate pre-screening no walk-ins will be accepted. Same day appointments must be booked over the phone to ensure screening occurs in time and online booking is available for appointments booked at least 48 hours in advance.
Please arrive solo: I understand that no one other than the scheduled client will be permitted into the studio.
Temp checks / Health screening: I agree to have my health screened at the door by front desk staff via a few simple questions and a temperature check taken with a contactless thermometer before entering the studio. If your temperature is above 99.3 degrees Fahrenheit you will be offered 3 minutes to sit down and cool off on the bench in our entryway and then have your temperature re-checked. If it is still not at or below 99.3 degrees at this time, you will be kindly asked to reschedule your appointment. In this case, you will be given a make-up session for the charge already made to your credit card for the scheduled appointment, in accordance with our late cancel policy due to illness.
Returning for appointments after COVID exposure or positive test: If a you are exposed to COVID-19 we require that you wait at least 14 days before returnining for an appointment, even if you have negative test results. If you develop any symptoms that are consistent with COVID (but have had no known exposure) you can return when you are symptom-free and have a negative COVID test on day 4-5 after symptoms began, or after 10 days since symptom onset if you did not get tested. If you test positive for COVID-19 you can return after 10 days since symptom-onset (or positive test date if you remain asymptomatic) as long as your symptoms are significantly improving and you have had no fever for at least 24 hours without the use of fever reducing medication.
No service of tea or snacks: I understand that Red Moon has eliminated service of tea and shared snacks. We do have individually wrapped organic fair trade dark chocolate and freshly filtered water to offer you after your session.
Masks required (regardless of vaccination status): I understand I will be required to wear a clean mask or other adequate face covering that fully covers my nose and mouth at all times while in the studio including at all times during the treatment on the table. Poorly fitted masks, vented masks, bandanas, and neck fleeces/gaitors are not acceptable face coverings. We suggest wearing mask that uses ear loops since anything that wraps around the head or neck will make it more difficult to massage directly on those areas and may feel uncomfortable in the face cradle. I understand if I arrive with an insufficient face covering (or no covering at all), that I will be offered a clean disposable mask to wear during my time in the studio and that I will not be admitted without an acceptable face covering. If you should feel uncomfortable face down on the massage table in the mask you will have the option to utilize the sidelying position, but you will not be permitted to remove the mask at any time during the appointment. Because we specialize in prenatal massage, all of our therapists are highly skilled at offering effective sidelying massage.
Shoes off in studio: I understand I will be required to remove my shoes before entering the studio. If you are not wearing socks you will be provided with a complimentary pair of freshly laundered slippers, but you will not be permitted to enter barefoot (you can be barefoot on the table, just not walking around).
Hand hygiene: I agree to sanitize and/or wash my hands upon entering the studio and immediately before and after my treatment. We have many touchless sanitizing stations available.
Physical distancing required: I agree to maintain at least 6 feet of distance between myself and anyone else present in the clinic at all times, except while receiving my treatment.
Limit talking during treatment: I understand that talking and conversations during massage therapy treatments will be limited to that which is necessary to communicate about the massage. Don't hesitate to speak up about anything directly related to treatment, such as if you are cold, would like more or less pressure, or are uncomfortable in any way - just please limit casual conversations to minimize the amount of aerosols released into the environment.
Services/Treatments we are not performing: I understand that many services will be temporarily unavailable due to the pandemic including: face massage, jaw massage/intra-oral TMJ massage, sinus relief steam treatment, cupping therapy, hot stone massage, couples massage (in the same room), the option to bring your newborn to postpartum massage, infant massage instruction (online only), and eye pillows. Please contact us to discuss alternatives should you desire any of these treatments.
Room temperature control: I understand that my therapist will do their best to keep the room a comfortable temperature, however windows will remain open for ventilation even while air conditioning or heat is on. Although a top priority at Red Moon is for you to have the best experience possible, when given the choice between safety and comfort, we will always choose the safety of our clients and staff first. Should you feel cold, a freshly laundered blanket will be available upon request, but the table heater will be on to keep you warm otherwise.
Bathroom use: I understand the bathroom will be disinfected regularly and the bathroom window will remain open for ventilation. I agree not to remove my mask in the bathroom and I agree to close the toilet seat cover before flushing as this minimizes the potential for aerosolization of viral particles into the bathroom.
In addition to temp checks, all staff and clients will be required to sign the following health declaration before every time they enter the studio.
By signing below, I attest that all of the following is true about me and everyone in my household in the past 14 days:
I have NOT been in close contact* with someone with known or suspected COVID-19 (except for frontline medical professionals while wearing proper PPE)
I am NOT currently awaiting test results for active COVID-19 infection (unless a routine test, not for symptoms or possible exposure to the virus)
I have NOT tested positive for active COVID-19 infection
I have NOT had any symptoms associated with COVID-19, including but not limited to:

temperature above 99.5 degrees Fahrenheit
chills
new cough or worsening chronic cough
new loss of taste or smell
shortness of breath or difficulty breathing
chest pain or abdominal pain
unexplained fatigue/malaise/muscle aches
diarrhea or vomiting
headache
sore throat
nasal/sinus congestion, runny or stuffy nose
worse than normal or unexplained allergy-like symptoms
pink eye / conjunctivitis
I understand I will need to attest to this health declaration again before every appointment at Red Moon Wellness while the COVID-19 pandemic continues. I understand that if anything changes related to my health or possible COVID-19 exposure between the time I attest to this and the time of my appointment that would render anything on this declaration form no longer true, I will contact Red Moon Wellness right away to reschedule. If you need to late cancel for this reason you will receive a make-up session so as to avoid a cancellation fee.
*"Close contact" is defined as closer than 6 feet distance for greater than 10 minutes time over a 24 hour period.